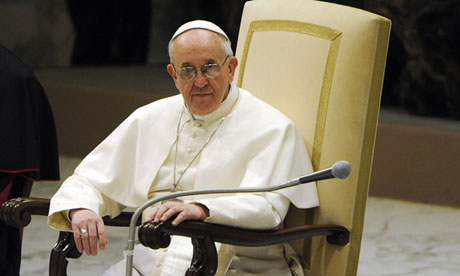 OCP News Service – 17/3/13
Read:OCP Executive Council request IMOC to withdraw from Orthodox – Roman Catholic Dialogue
Read:Vatican Continues to bless 'Uniatism and Sheep Stealing' in India
Read:Roman Catholic Church contradicts on the Status of Self Proclaimed Catholicos and Malankara Metropolitan
Read: Is The Catholicate Of The Romo-Syrians In India Canonically Genuine Or Bogus?
Read: Indian Orthodox Church Sends Letter to Pope, Major Archbishop and Roman Catholic Prelates (2009)
Global/ India/Vatican:
The election of Pope Francis has brought much hope for the advancing improvement of Orthodox- Roman Catholic ties and cooperation. In a recent message to the Executive Council of Orthodoxy Cognate PAGE Society, Mr George Alexander expressed his high concerns over the attitude of Malankara Catholic Rite towards the Indian Orthodox Church which has been continuing since 1930 when the Malankara rite broke away from the Indian Orthodox Church under the leadership of Archbishop Ivanios.
Since 2005 the aggression has changed to a newer level when the Primate of Malankara Catholic Rite declared himself to be a Catholicos along with the title  'Major Archbishop of Trivandrum of the Syro-Malankaras'.
"In the year 2005 this Church was elevated to the status of a Major Archiepiscopal Church and suddenly the Church began to address its Primate as Major Archbishop-Catholicos. Catholicos title has not been granted by Vatican and that has been clearly mentioned in the letter (Port.N. 2581/2005/h) sent on 18th June 2005 by His Excellency Cardinal Walter Kasper, the then President of the Pontifical Council for the Promotion of Christian Unity to the late Metropolitan Philipose Mar Eusebius, the President of the Ecumenical Relations Department of Indian Malankara Orthodox Church.
But the Syro-Malankara Catholic Rite continue to use the title Catholicos along with tile of Major Archbishop. Apart from that the Primate of the Syro-Malankara Catholic Rite claims the following titles such as "The Successor of the Apostolic See of St. Thomas In India and Malankara Metropolitan" (www.malankaracatholicchurch.net/major_archbishop.html).
Both titles are exclusive privilege of the primate of the Indian Malankara Orthodox Church. So presently Major Archbishop Beselios Cleemis being a Cardinal confuse the situation further as he holds three tiles Major Archbishop, Cardinal and "self-proclaimed Catholicos". The original title is nothing more than His Excellency/His Beatitude Beselios Cleemis – Major Archbishop of Trivandrum of the Syro-Mlanakras (now a Cardinal)."
The OCP Executive Council hopes that the hierarchy of Indian Malankara Orthodox Church will take adequate and official steps to ask the Roman Catholic Church to rectify the error made by Vatican and Malankara Catholic Rite. The Council hopes that the newly elected Pope Francis will genuinely ask Malankara Catholic Rite to immediately withdrew all false claims and refrain from further aggression in order to foster better ecumenical relations.
Source:
OCP News Service