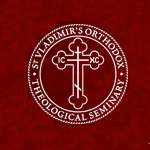 8/5/2011
[SVOTS Communications/Yonkers, NY]—On Saturday, October 1, 2011, St. Vladimir's Orthodox Theological Seminary, Yonkers, NY, will honor military chaplains and service men and women at its annual open house, Orthodox Education Day. Activities for the day will center on this year's theme, "For God and Country."
The Rev. Dr. Philip LeMasters, a member of the seminary's Board of Trustees, will deliver the Keynote: "Orthodox Perspectives on Peace, War, and Violence." Fr. Philip is Professor of Religion and Director of the Honors Program and Dean of the School of Social Sciences and Religion at McMurry University; he also is rector of St. Luke Orthodox Church, Abilene, Texas.
Dr. Stephen Muse, director of the Counselor Training Program at the Pastoral Institute, Inc. in Columbus, Georgia, will lead the primary workshop: "Listen, Witness, and Weep." Workshop participants will explore the physical, emotional, and psychological support that clergy and laity in the Church can offer veterans and their families—as well as what civilians can learn from soldiers. Dr. Muse teaches and supervises with the U.S. Army Family Life Chaplain Training program at Fort Benning.
Admission to the grounds and to all activities is free. In addition to the Keynote and Workshop, the day's schedule includes:
· Divine Liturgy, 8 a.m., mid-day Akathistos with visiting hierarchs, Memorial Service for departed veterans, and Vespers, 5 p.m.
·Panel of Orthodox Christian military chaplains
·Flagpole dedication with military parade and honor guard
·Exhibits related to the Armed Forces
·Veneration of icon and relics of St. Basil Martysz, "the Chaplain" and icon exhibit featuring military saints
·Care packages for soldiers, with related children's booth activities
·SVS Press & Bookstore: books, cards, CDs, and newly published children's book, St. George and the Dragon
·Angelic choirs, electrifying dance groups, and tantalizing ethnic food
The seminary community is soliciting photos for display, and the names of living and deceased members of the Armed Forces, which will be used in prayerful intercession on Orthodox Education Day. Photos and names may be sent to the Events Coordinator, Tanya Penkrat:
tpenkrat@svots.edu or 914-961-8313×351. Parishes and individuals that would like to help with donations for ethnic food booths, or those interested in seeking further information on the event, may also contact Mrs. Penkrat.
For the full story and to download a flyer, see the "Upcoming Events" section on the Home Page of the seminary's Website: www.svots.edu. Also, check out related upcoming features and contests on our Facebook page: http://www.facebook.com/groups/svots.