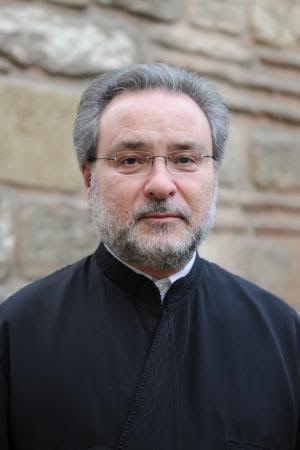 YONKERS, NY [SVOTS Communications] – December 2015
The 33rd Annual Father Alexander Schmemann Memorial Lecture, "Toward the Holy and Great Council: Retrieving a Culture of Conciliarity and Consensus," will be presented by Rev. Dr. John Chryssavgis, Archdeacon of the Ecumenical Patriarchate, at Saint Vladimir's Seminary here on Sunday, January 31, 2015.  The free public lecture will be preceded by an academic convocation at 7:00 p.m., during which Father John will be awarded a Doctor of Divinity degreehonoris causa.  The seminary Board of Trustees also will award a Doctor of Canon Law degreehonoris causa to former Trustee Charles Ajalat.
Father John currently serves as theological advisor to the Ecumenical Patriarch on environmental issues. Born in Australia, he studied theology and philosophy at Athens and Oxford, and taught patristics and Church history in Sydney, Boston, and Lebanon. He co-founded Saint Andrew's Greek Orthodox Theological College in Sydney.
Father John is the author of over 20 books and numerous articles in several languages on the Church Fathers and Orthodox spirituality, including Letters from the Desert: A Selection from Barsanuphius and John, published Saint Vladimir's Seminary Press in 2003. He is also the editor of three volumes containing the select writings of Ecumenical Patriarch Bartholomew (Fordham University Press, 2010-2012).
A public reception will follow the lecture in the Metropolitan Philip Auditorium of the John G. Rangos Family Building. The lecture will be made available as a "Voices from St. Vladimir's Seminary" podcast on Ancient Faith Radio.