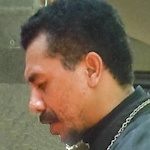 Indonesian Orthodox Church
Hieromonk Panteleimon (Lake) reposed in the Lord yesterday morning at 8.00am (local time, West Timor, Indonesia). Hieromonk Panteleimon was a cleric of the Indonesian Deanery (Indonesian Orthodox Church) of the Australia and New Zealand Diocese.
He will be buried Monday, June 20 in his home village in Nilulat-Kefamenanu – 230 km East of Kupangand. We ask you to pray for the soul of the newly departed Hieromonk Panteleimon.
Memory Eternal!