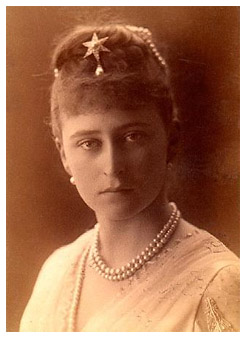 Chinese Orthodox Church
English translation by Nina Tkachuk Dimas – 24/7/13
A group of pilgrims arrived in Beijing for the first time; they traveled along the posthumous journey of the Grand Duchess Elizabeth Feodorovna. This was announced today in an ITAR-TASS interview with Bishop Sergiy (Ivannikov) of Barnaul and Altai.
"The purpose of the trip was to draw attention to this year's 400th anniversary of the reign of the Romanov dynasty, and the anniversary of the death of Grand Duchess Elizabeth Feodorovna – one of the rare examples of patriotism and national service by the representative of the Romanov dynasty. Her life and especially her death and posthumous journey from Jerusalem to Alapaevsk are very significant, "- said Bishop Sergiy.
He recalled that on the night of July 18, 1918 Grand Duchess Elizabeth Feodorovna and her assistant Varvara Yakovleva, along with six other members of the Russian Imperial House, were dropped into an old mine. A few months later, Admiral Alexander Kolchak's army took Ekaterinburg, and the bodies of the martyrs were extracted from the mine. Through the efforts of the White Army eight coffins with bodies were first been brought to Beijing. Later the relics of Elizabeth Fyodorovna and Nun Varvara were sent to Jerusalem for burial in a tomb of the church of St Mary Magdalene in Gethsemane.
"Having received the blessing of Patriarch Kirill of Moscow and All Russia, Kirill, we were preparing for the journey. We started from the Martha and Mary Convent of Mercy in Moscow, then were Alapaevsk, and now we are in Beijing. We took an icon of the venerable martyr Elizaveta on this journey "- said Bishop Sergiy. According to him, "at all staging points of the sacred remains of Elizabeth Feodorovna we planned to take some earth and put it in a capsule." "On returning to Moscow, there will be a thanksgiving service, and the capsule with earth will be inserted into the icon with honor," – added the bishop.
"Euronews" offers its readers the opportunity to become acquainted with urgent ITAR-TASS reports without making any changes.
Copyright 2013 ITAR-TASS.