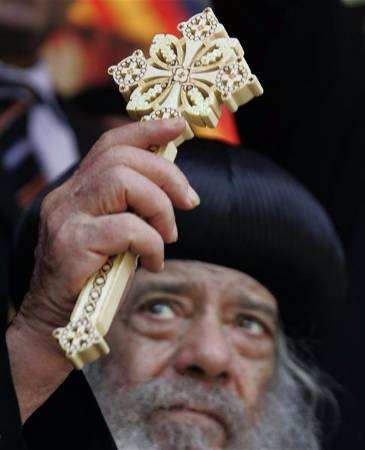 Emad Khalil
11/07/2011
The head of Egypt's Coptic Orthodox Church on Monday slammed former President Hosni Mubarak's regime for the way it handled sectarian issues, a church source said on Monday.
Pope Sheounda III's remarks came during a Sunday meeting with European MPs and diplomats. The meeting discussed the political situation in post-revolution Egypt.
The European delegation included German MP Martin Schulz, the EU ambassador in Cairo Marco Franco, and Denmark Ambassador Christian Hoppe, the source said.
He added that Shenouda III told his guests that the conditions of Egypt's Copts have improved following the January unrest that toppled the former president.
The pope said that for 30 years, the Egyptian church struggled futilely to get the former regime to issue a unified law for constructing places of worship, while the ruling Supreme Council of the Armed Forces recently approved the law and penalized religious discrimination.
According to the source, Shenouda III said that the military council handles sectarian sedition strictly, unlike the former regime whose approach was "lenient."
Former President Hosni Mubarak's regime was frequently criticized for the way it handled sectarian issues. Some press reports even accused it of encouraging sectarian crises to position itself as the country's only guarantee for security.
In June, the Egyptian church demanded that former Interior Minister Habib al-Adly be interrogated for possible involvement in an Alexandria church blast in January. The attack killed and injured dozens of citizens on New Year's Eve.
Translated from the Arabic Edition