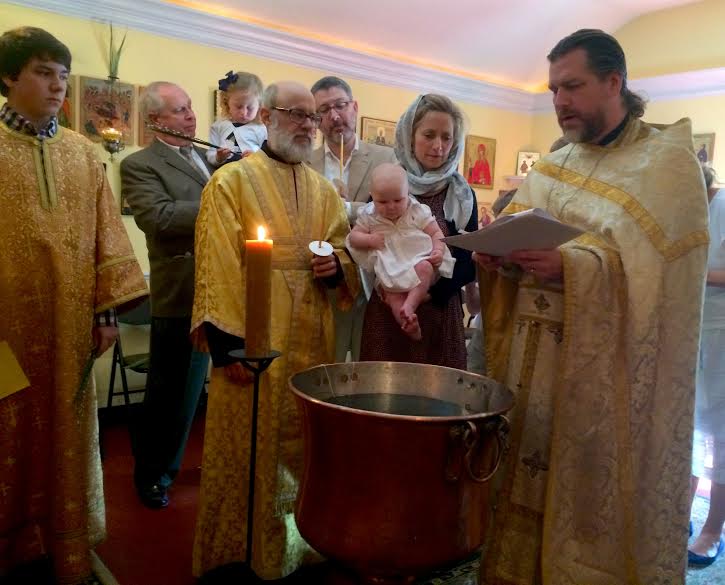 BEAUFORT, SC [OCA] – November 2015
"Orthodox Christianity is for everyone because Orthodox Christianity is simply Christ in His fullness," says Priest James Bozeman of Saint James Mission here.  "One of the great hurdles that we contemporary Orthodox Christians have to overcome is any mindset other than the fact that Christ is 'the one thing needful,' applicable and needed by everyone.  Orthodox Christianity is the reality that meets that need."
It was with this rather obvious conviction that Saint James Mission was planted in 2012 with the desire to bring Christ in His fullness to South Carolina's "low country."  And thanks in part to the support provided by the Orthodox Church in America's Planting Grant program, Father James and his flock are doing just that.
"We served our first liturgy in Beaufort in July 2012, and since that time we have grown from an initial six committed individuals to a group that is repeatedly filling our small rented building at Sunday Divine Liturgy," says Father James.  "Earlier this year, with the assistance of the Diocese of the South, we were able to purchase a beautiful two-acre piece of property, and we are now in the process of selecting an architect and working to design our future church building."
Meanwhile, the mission is experiencing membership growth in the form of Orthodox Christians who have moved into the area and new converts to the faith.
"The process of growth always seems slower than we would desire it to be," adds Father James.  "But God has been gracious to draw into His net those who are genuinely seeking Him and hoping to work out their salvation."
Among the parish's ministries are a summer program for enquirers and a Wednesday evening study group that currently is studying the Book of Psalms.
"We open our doors to those who are curious during our annual Saint James festival, and we encourage one another to invite family and friends to services," says Father James, who adds that "some of our parishioners excel at this!"
Sometimes, Father James explains, "it is difficult to be the 'new church' in such a venerable and historic town.
"The Baptist Church just down the street from our current location is over 200 years old, while the local Anglican congregation celebrated its 300th anniversary in 2012," says Father James.  "Inspired by this, our mission has two desires—that we, too, may someday enjoy our 300th anniversary, and that over the next 297 years, through Christ, we might work to make complete all that is lacking in those who are seeking Him in His fullness.  The Planting Grant is key to making this happen here in Beaufort!
"Am I convinced that Jesus Christ is for everyone and is the way I live this life like the rich sound of a cymbal that cuts through the static and noise that the world offers, drawing men toward Christ?" Father James asks.  "Our hope at Saint James Mission is to resonate with the sort of sound that proclaims Christ in all of His grace, love and power."