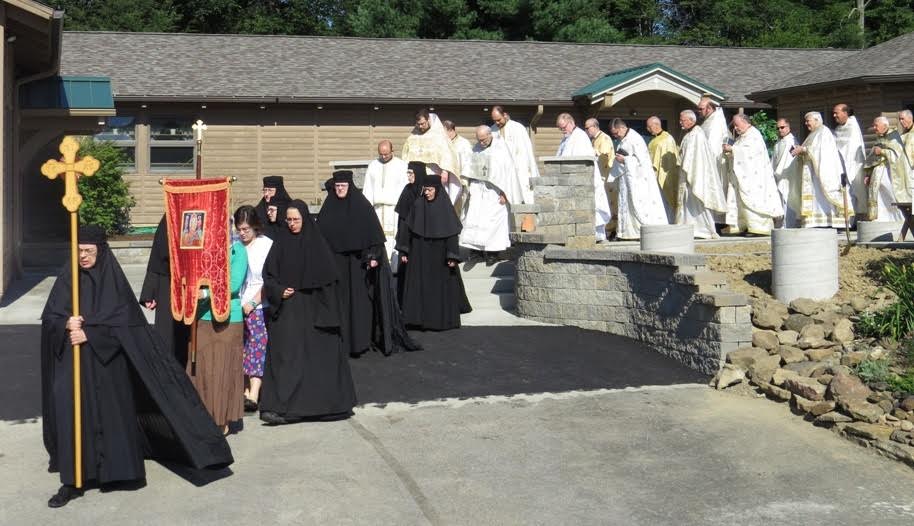 ELLWOOD CITY, PA [OCA] – August 2016
The 25th Anniversary of the repose of Mother Alexandra, the former Princess Ileana of Romania who founded Holy Transfiguration Monastery here, will be remembered during the community's annual pilgrimage and patronal feast August 5-7, 2016.
The monastery was established in 1967 as the fulfillment of Mother Alexandra's dream to provide a place where Orthodox Christian women from all ethnic backgrounds could live the monastic life and benefit from the liturgical cycle in English.  Since that time, her vision has been fulfilled.  The nuns, the majority of whom are converts to Orthodox Christianity, as well as the monastery's many visitors span a variety of backgrounds.
Mother Alexandra also is remembered for her writings on a variety of spiritual themes.  Her 1951 autobiography, I Live Again, will be republished in the near future.  In this book, Mother Alexandra describes her life in the 1940s—turbulent times during which she raised her children, lived through Hitler's occupation in Austria and the communist takeover of Romania, and relocated with her children to the US.
The pilgrimage opens on Friday, August 5 with the celebration of Vigil and dinner.  His Eminence, Archbishop Mark of Philadelphia and Eastern Pennsylvania, guest hierarch, will deliver the homily at the Divine Liturgy on Saturday, August 6—the Great Feast of the Transfiguration of our Lord.  Prior to the Liturgy, a procession will make its way from the main church to Saint Elizabeth the Grand Duchess outdoor chapel pavilion.  Lunch will follow.
At 2:00 p.m. on Saturday, young pilgrims will showcase their talents by presenting speeches or poems, singing songs, or playing instruments individually or in groups.  Interested youth should register in advance by writing to omtsec@gmail.com or calling 724-758-4002.  The Sacrament of Holy Unction and anointing of pilgrims will commence at 2:30 p.m., with Great Vespers slated to be celebrated at 6:00 p.m.
On Sunday, August 7, Matins will be celebrated at 8:30 a.m., followed by the Divine Liturgy at 9:45 a.m.
Additional information may be found on the monastery's web site.