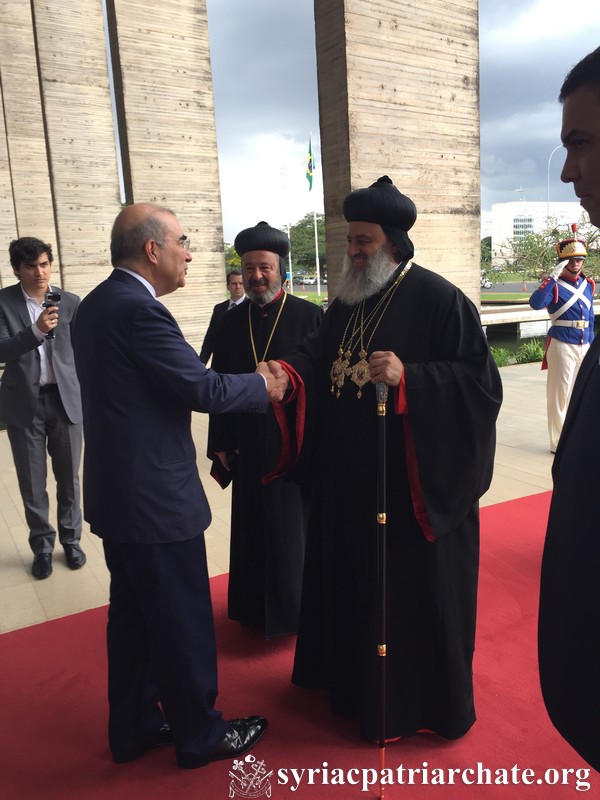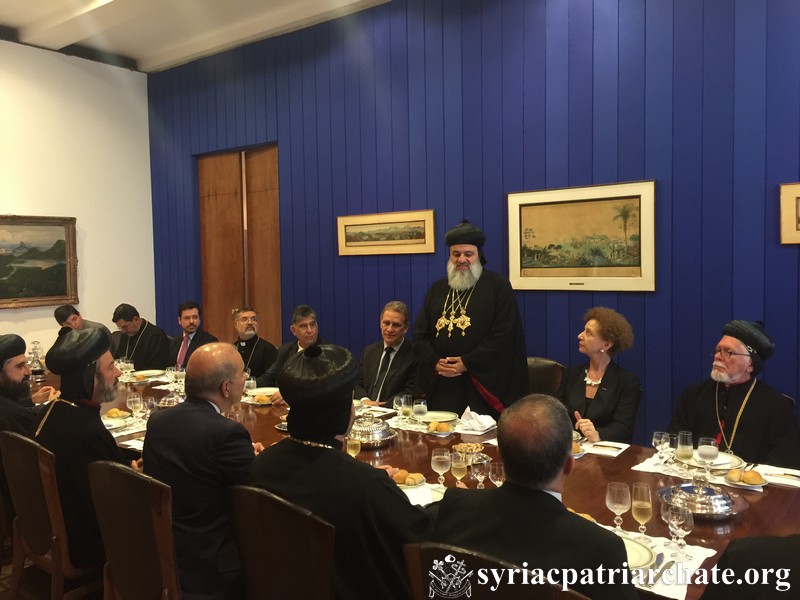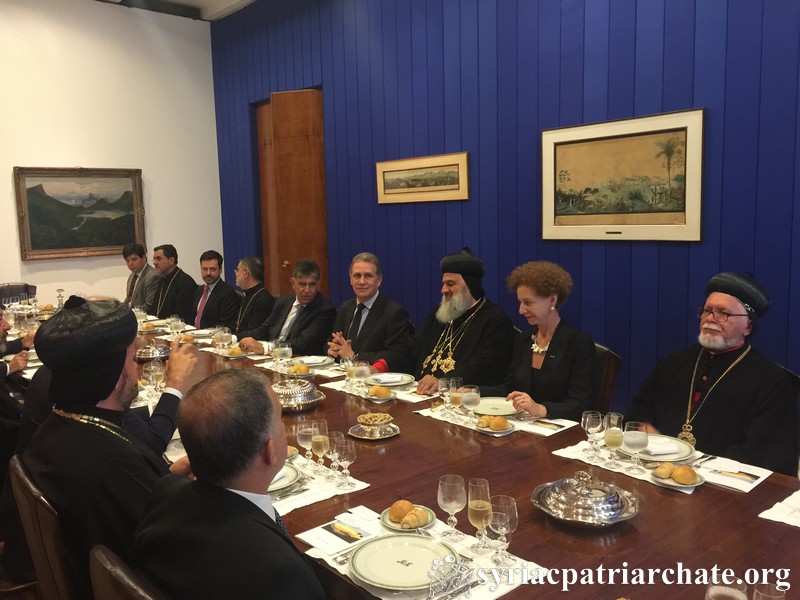 Syriac Orthodox Patriarchate – 28/10/16
On the occasion of the first apostolic visit of His Holiness Patriarch Mor Ignatius Aphrem II to Brazil, His Excellency Ambassador Marcos Bezerra Galvao, Secretary General of the Brazilian Ministry of Foreign Affairs held an official reception at the Ministry Headquarters in Brazilia, in honor of His Holiness.
His Holiness was accompanied by their Eminences, Mor Titus Boulos Touza, Syriac Orthodox Apostolic Nuncio in Brazil, Mor Selwanos Boutros Al-Nehmeh, Archbishop of Homs, Hama and Environs, Mor Chrysostomos Youhanna Ghassaly, Patriarchal Vicar in Argentina, and Bishop Mor Faustino Jose Filio, as well as Very Rev. Raban Joseph Bali, Patriarchal Secretary and Media Office Director, Very Rev. Fr. Paolo Milton, and Syriac Orthodox clergy from Brazilia.
The reception was also attended by ambassadors: Claudio Frederico Arruda, Special Counselor of the President, Fernando Jose de Abreux, Assistant Secretary General of Africa and Middle East, Ligia Maria Sherer, Director of Department of Middle East Affairs, Frederico Salamao, Director of Press Relations, Mauricio Lyrio, Chief of Cabinet, Joao Mendez, Chief of Ceremony, Alexander Pena, Director of Department of Human Rights, Eugenio Vargas, Director of United Nations Affairs, as well as high counselors and chief of departments.
In his speech, His Holiness gave a short overview of the history of the Syriac Orthodox Church, especially in Brazil, with both its missionary work and the immigrants who established communities and churches in Brazil.
His Excellency Ambassador Marcos Galvao spoke about the Brazilian society and how it offers an environment of tolerance and equal opportunity to its citizens and the immigrants.
At the end of the reception, gifts were exchanged as a token of respect and appreciation.