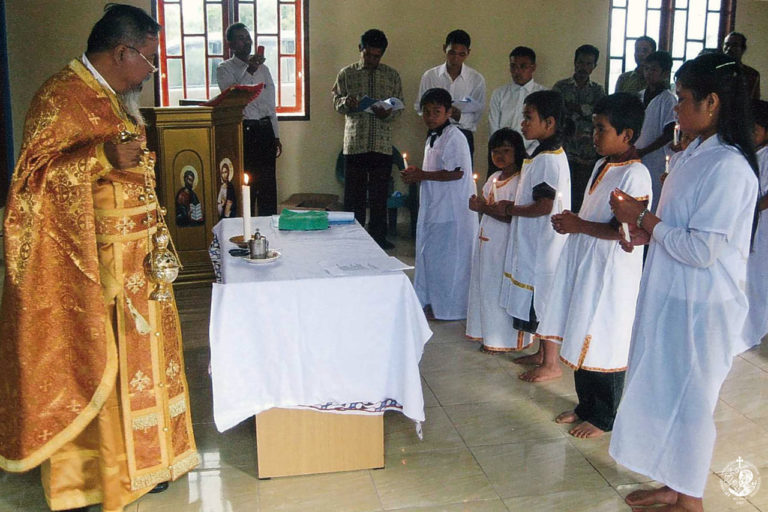 September 2014
Dear friends of the Mission,
Rejoice in the Lord!
With God's help we are well, and we are thankful for that. I have just returned from the island of Nias, where I offered my spiritual ministry for a few days. Of course, my dear brothers, I rarely manage to write to you due to my numerous missionary commitments and responsibilities here in Indonesia. Among other things, I would like to mention some aspects of the Orthodox Mission in this country.
Our Mission on Nias island numbers three parishes and a school. I do not go there on a regular basis because I cannot afford the fare. I only go once a year as I need 200 euros for a return ticket. It would be much better if I could go there four times a year, two to the parish community of St. Catherine and two to those of Sts. Paul and Martha, whose church was built by your Fraternity.
In the village of Lae Rias we have got five fields, which you helped us to buy. There we have planted oranges and vegetables, such as peppers and eggplants. In each field there is a family who works and lives there. However, only two of the fields have a permanent hut, the rest have a plastic one. A hut costs 1,000 euros, therefore, we would need 3,000 euros to house three families. Also, it would be useful to have a tiller; this could help us make a lot of savings by reducing the number of workers. A tiller costs 2,000 euros.
On Nias island we have three parish communities. There we have appointed an Orthodox catechist to minister to the people's needs. However, in order to be able to offer his services as expected, he needs a motorbike to move about from community to community easily. A motorbike here costs around 2,000 euros.
Our Theotokos hospital, another important project where your Fraternity has contributed significantly regarding its construction and equipment, operates regularly. It employs 10 doctors and 20 nurses. Naturally, their salaries should be paid at the beginning of each month. Bearing in mind that our main revenue comes from the patients' hospital costs, it is easy to understand that if we have a lot of patients, we are in a position to pay salaries and electricity bills. If not, then my blood pressure rises! Who can I resort to for help? This is why, my brothers, I am making a heartfelt plea to you: help us to collect a reserve of 15,000 euros, which will enable us to meet our needs and face such emergencies. I am certainly aware of the fact that it is a considerable amount of money given the financial crisis you are going through as well, but even the smallest contribution would be a great relief for us.
Please forgive me for bothering you with our concerns and for making such a request. May our Lord Jesus Christ bless you abundantly.
Wishing in the Lord,
Fr. Chrysostomos Manalu