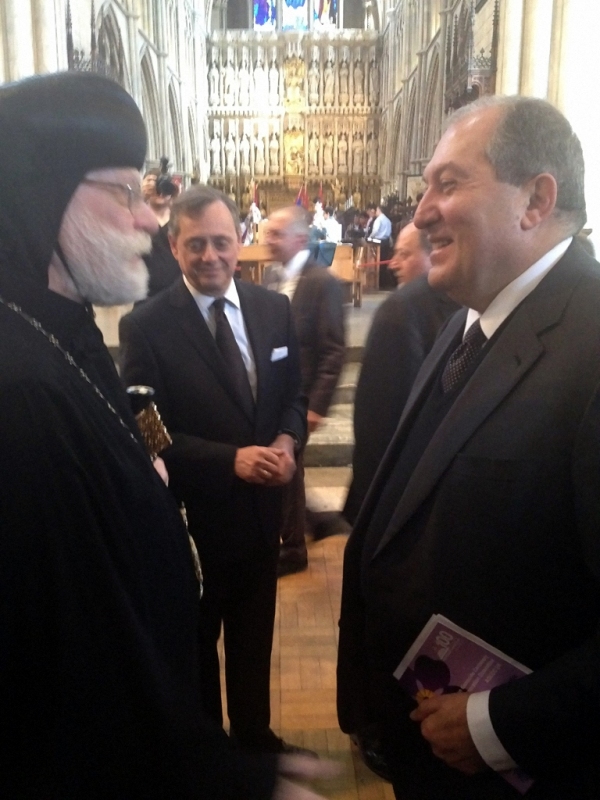 The British Orthodox Church – April 2015
Among the events organised by the Armenian Genocide Centenary Commemoration Committee (AGCCC) in the United Kingdom, was a special Service in Southwark Cathedral on 18 April, which Abba Seraphim and Deacon Daniel Malyon attended. The Cathedral was very full and people arrived to the sound of the duduk, an ancient double-reed woodwind flute made of apricot wood. It is indigenous to Armenia and was proclaimed by UNESCO as a masterpiece of the Intangible Heritage of Humanity. The Dean of Southwark (The Very Rev'd Andrew Nunn) warmly welcomed those attending, recalling his fond memories of a recent pilgrimage to Armenia. A number of distinguished speakers were interspersed with cultural interludes of classical music (Handel and Bach) sung by Paula Sides (soprano) accompanied by Victoria Walker on the cello, who also performed a solo.
Dr. Charles Tannock, MEP, a doughty champion of Armenia, spoke of the need to proclaim the fact of the Armenian Genocide as the way to healing the past and preventing such atrocities in the future. This theme was picked up and developed by His Eminence Archbishop Elisey of Sourozh (Russian Orthodox Church) who drew  parallels with current events in the Middle East; Baroness Cox of Queensbury, who emphasised freedom, justice and truth and Professor  William A. Schabus, a Genocide scholar, who warned of the dangers of denial. Towards the end, Dr. Armen Sarkissian, the Armenian Ambassador, spoke movingly of his childhood memories of conversations with his grandmother, a genocide survivor; and of the problems of keeping the 'secret' of the memory of the Genocide alive in the hostile environment of the Soviet Union.  The service ended with a prayer and blessing offered by the Bishop of Southwark (The Right Rev'd Christopher Chessum).