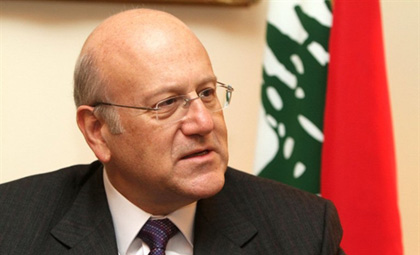 Daily Star, Lebanon – February 2014
BEIRUT — Caretaker Prime Minister Najib Mikati voiced optimism late Friday over the case of the group of nuns kidnapped in Syria last year, saying Qatari officials expected the matter to be resolved soon.
"In my recent meeting with the Qatari foreign minister who was accompanied by staff working on the case of the [kidnapped] nuns he told me that the case would be resolved very soon," Mikati told Al-Mayadeen television channel in an interview late Friday.
The 13 nuns, Syrian and Lebanese national, were forced to evacuate a monastery in the Syrian town of Maaloula in December and are reportedly being held by rebels in the nearby town of Yabroud.
Qatar has said it is exerting efforts to secure the release of the nuns. The matter is also being followed up by Lebanon's General Security chief, Maj. Gen. Abbas Ibrahim.
Mikati also spoke about the two bishops kidnapped in Syria in early 2013 and said the two priests were likely still alive.
"There is no information that indicates otherwise," said Mikati, when asked if the bishops were believed to be safe.
Aleppo's Greek Orthodox Archbishop Paul Yazigi and Syriac Orthodox Archbishop Yohanna Ibrahim were abducted in April by armed men while en route to the northern Syrian city from the Turkish border.
They were reportedly on their way to negotiate the release of three priests who are also missing.
Earlier Friday, Mikati discussed in separate meetings with Russian President Vladimir Putin and Russian Prime Minister Dmitry Medvedev the latest developments in the region and bilateral ties between Beirut and Moscow.
Mikati, who is currently in Russia, held the talks on the sidelines of his visit to Russia to attend the opening of the Sochi 2014 Winter Olympics.
"Lebanon is keen on participating in all international sports events to highlight the country's distinctive presence on all occasions," Mikati said.
Putin on Friday welcomed more than 40 other heads of state and leaders for the ceremony, including U.N. Secretary General Ban Ki-moon, Chinese President Xi Jinping and others.