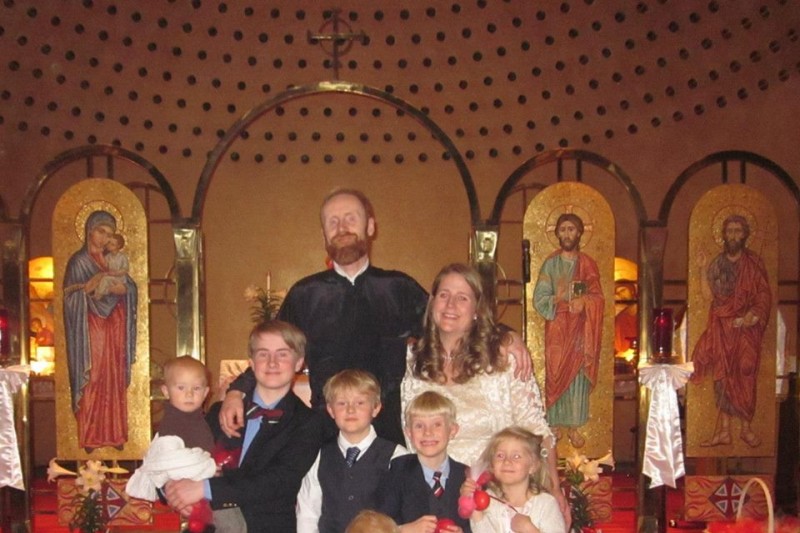 NORWICH, CT [OCA]
Donations to assist the family of Priest Matthew Baker, who died as a result of an automobile accident on the evening of Orthodox Sunday—March 1, 2015—may be made at http://www.gofundme.com/nizf2g?fb_action_ids=10153015372926708&fb_action_types=og.shares.
Donations also may be sent directly to Holy Trinity Greek Orthodox Church, 247 Washington Street, Norwich, CT 06360, the parish to which Father Matthew had recently been assigned.
A priest of the Greek Orthodox Archdiocese of America, Father Matthew attended Saint Tikhon's Seminary, South Canaan, PA and Saint Vladimir's Seminary, Yonkers, NY.  A doctoral candidate, he was widely known for his scholarly pursuits and had been described not only as "a brilliant scholar and liturgist, but as a real pastor."
The accident occurred while Father Mathew and his six children, who range in age from two to 12 years old, were driving home from the Triumph of Orthodoxy Vespers which his parish had hosted.  His children were not hurt in the accident.  His wife Katherine was not with them.
Updates about the family, other opportunities to help, and a schedule of memorial and funeral services will be posted on the aforementioned GoFundMe page as they become available.  Further information may be obtained by writing to help4thebakers@gmail.com.
One hundred percent of the donations received will go directly to Presbytera Katherine.
May Father Matthew's memory be eternal, and may our All-Merciful Savior comfort his grieving wife, children, and extended family.