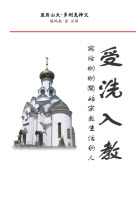 English translation by Nina Tkachuk Dimas
29/12/2011
The Chinese Orthodox Church
The Orthodox Brotherhood of the Holy Apostles Peter and Paul in Hong Kong has translated and published in the Chinese-language book by Archpriest A. Torik "On becoming one with the Church". Today it is one of the few books available to the Chinese reader who needs assistance in finding the Orthodox faith.
To many Chinese, whose mind has understood or whose heart has felt that God exists, and realized — even if not entirely clearly — that they belong to the Orthodox Church and who wish to become part of it, there arises the problem of VOTSERKOVLENIYE, that is, entry into the Church as a full and equal member – especially because of the lack of a normal liturgical life in the temples of the Chinese Autonomous Orthodox Church on the territory of China.
For many the problem is very serious because, on entering a temple, an unprepared person comes face-to-face with a completely new world .
There is wisdom in the well-known proverb: "To whomever the Church is not Mother – God is not Father." But to understand the entire truth of these words, you need to know — What is the Church? What is the meaning of her existence? Why is it necessary to have her intervention in associating with God?
In order to answer these and many other questions raised by one standing in front of the open gates of the church, this book has been translated into the Chinese language.
It can be obtained at the online store at: http://orthodox.cn/ofasc/store/