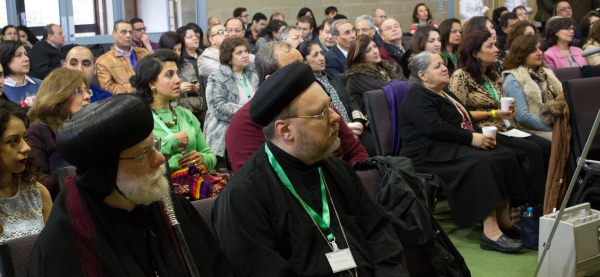 March 2015
The Coptic Medical Society of the UK held a Spiritual Conference for Medical Personnel at the Frontier Centre, Wellingborough from 27 February-1 March, under the direction of Father Daoud Lamei of St. Mark's Church, Heliopolis. The theme of the conference was "Doctors as missionaries of God". Among others participating by invitation were Fr. Peter Farrington and Abba Seraphim.
Father Peter spoke on 27 February and 1 March about mission in the UK. There is a need to address the British people through their own language and culture; a great issue is the ignorance of Christianity as most people had not rejected Christ, they'd not heard of him. He also described some of the aspects of our society, and suggested people were trying to fill their lives with material things but thought it was positive that more than half the population wanted to call themselves Christian. He asked if we Orthodox are prepared to welcome all British people into our communities, making  the effort to present the Orthodox faith in a way that serves the British people, and believed that our mission requires us to work together to bear fruit.
As 2015 marks the fiftieth anniversary of Abba Seraphim becoming Orthodox, he spoke about his personal pilgrimage over half a century and especially of the support the British Orthodox Church received from the late Pope Shenouda, before talking about the Gospel imperative to evangelise.