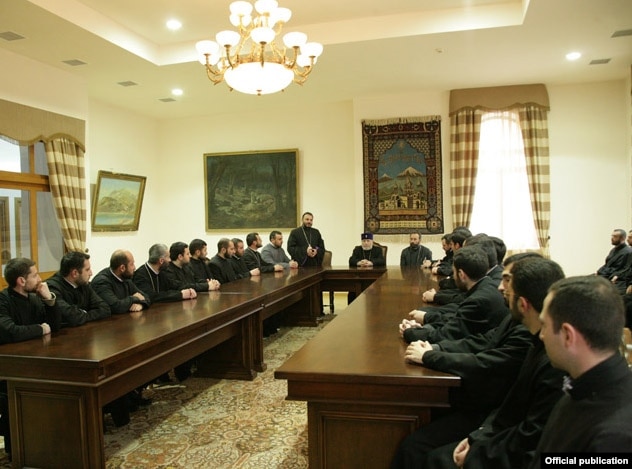 Emil Danielyan
15/2/2011
The supreme head of the Armenian Apostolic Church, Catholicos Garegin II, has urged clergymen serving in Armenian army units to help military authorities fight against non-combat deaths and other violent incidents among military personnel.
Garegin emphasized the "important role" of army chaplains as he met with 46 of them at the church's Mother See in Echmiadzin late on Tuesday. He said they must "always stand by the Armenian soldier's side, raise his patriotic and Christian spirits and fill his life with enduring Christian values."
"Prevention of unfortunate phenomena and incidents in the army is also greatly conditioned by your service," Garegin was quoted by his press office as saying. "Spiritual steadfastness is key to the army's invincibility and victories."
Garegin said the chaplains should therefore continue their mission with "responsibility, dedication, faith and exemplary behavior."
Armenia's armed forces have been beset by hazing and other manifestations of poor discipline dating back to the Soviet era ever since their official formation in 1992. The problem has had a much greater public resonance in recent months following a spate of non-combat shootings widely covered by the Armenian media.
Faced with a barrage of criticism from journalists, human rights activists and other public figures, the Armenian authorities and Defense Minister Seyran Ohanian in particular have pledged a tougher crackdown on army crime. Critics say that they are still not doing enough to tackle it.
According to a statement issued by Garegin's office, the chaplains discussed with the pontiff unspecified "difficulties" encountered by them in their day-to-day service. It said they also complained that "contemporary television programs do not contribute to the patriotic upbringing of younger generations."
The meeting with Garegin came ahead of the 15th anniversary of the establishment of the army's chaplain corps. Its is currently headed by Bishop Vrtanes Abrahamian.
Abrahamian accompanied Ohanian on his July 2010 visit to Afghanistan, where more than 40 Armenian troops serve under German command. The bishop consecrated a small chapel built by them at their base near the northern Afghan city of Kunduz.