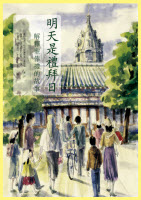 Chinese Orthodox Church
16/8/2012
English translation by Nina Tkachuk Dimas
PRAVMIR – Hong Kong. A book on the Orthodox Liturgy for newly-baptized Orthodox adults and children has been published in Chinese. Ivan Shchelokov, a student of the Moscow Theological Academy studying Chinese at Jinan University translated "Tomorrow is Sunday", a book by the Greek author, Mrs. Gregoriadi-Sureli, about an Orthodox family preparing for the Divine Service on Sunday.
This publication was prepared by the Brotherhood of the Holy Apostles Peter and Paul in Hong Kong. It explains in simple terms, especially for children, the meaning and significance of this Divine Liturgy, as well as the preparation for it.
Over twenty pictures representing a Chinese Orthodox family illustrate the Chinese edition. The book is dedicated to this year's celebration of the 300th anniversary of the Russian Spiritual Mission in China.