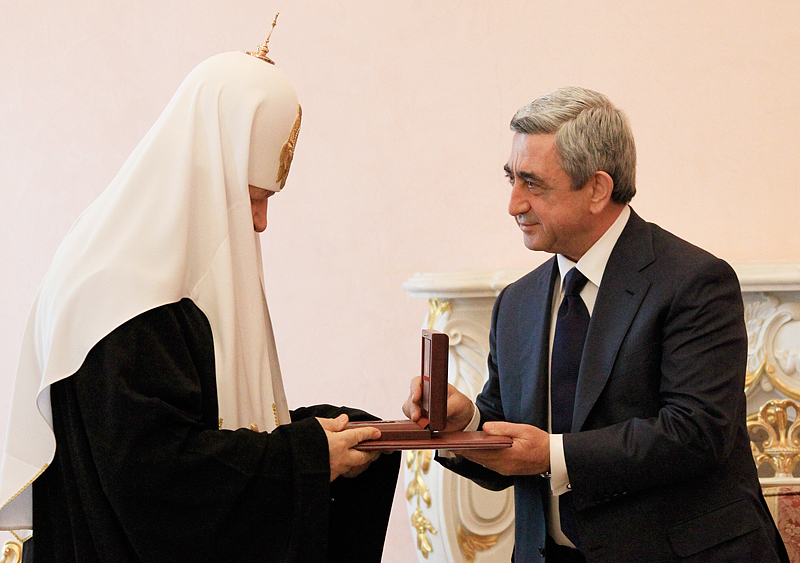 28.11.2011
President Serzh Sargsyan received Patriarch Kirill of Moscow and All Russia and His Holiness Karekin II, Supreme Patriarch and Catholicos of All Armenians.
President Sargsyan welcomed the visit of the delegation of the Russian Orthodox Church led by Patriarch Kirill and voiced hope that it would contribute to the further reinforcement of brotherly relations between the Armenian Apostolic and the Russian Orthodox Churches.
President Sargsyan highly appreciated the efforts of the Patriarch of Moscow and All Russia targeted at the strengthening of morality and spiritual values among the society. According to Serzh Sargsyan, the life and activity of Patriarch Kirill is a good example of service to the Motherland and the Church.
According to President Serzh Sargsyan's decree, Patriarch Kirill of Moscow and All Russia was awarded a St. Mesrop Mashtots Order for his significant contribution to the deepening of traditional friendship between Armenia and Russia, reinforcement of ties between the Armenian Apostolic Church and the Orthodox Church of Russia, preservation and development of spiritual values.
Receiving the award, the Patriarch said it was a great pleasure for him to visit Armenia – the ancient cradle of Christianity. He thanked President Serzh Sargsyan and His Holiness Karekin II for the support to the conduct of the sitting of Presidium of the CIS Inter-Religious Council and wished prosperity to Armenia and success to its leaders.