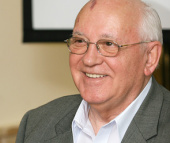 Moscow, March 3, Interfax – Patriarch Kirill of Moscow and All-Russia congratulated the last Soviet leader Mikhail Gorbachev on his 80th anniversary.
"The end of the 20th century has seen a number of changes in this country. The cooperation between the government authorities and the Russian Orthodox Church was substantially facilitated by your decisions," Patriarch's telegram posted Wednesday at the Moscow Patriarchate' official website is quoted as saying.
According to Patriarch, such cooperation encouraged "people to come back to the spiritual and moral sources of their national life."
"In the meantime, the government adopted the much sought-after law to guarantee the freedom of religion," he recalled.
Patriarch Kirill wished former President Mikhail Gorbachev and his family members health, success and happiness.