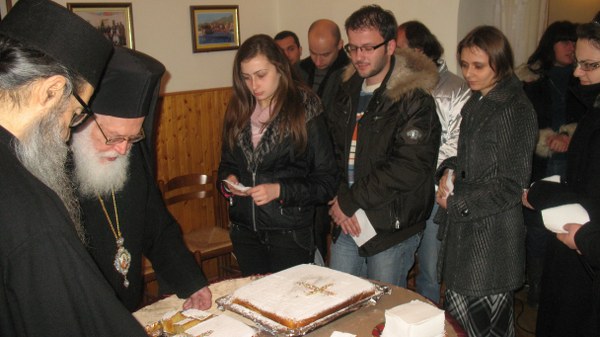 The Albanian Orthodox Church
The tradition of sharing the cake of Saint Basil was held once again this year at the Orthodox Youth Centre of Tirana, "Bethlehem House", which for years has organized a special activity for this feast. Dozens of young people, led by their spiritual director, Father Justin, were gathered on January 23rd to share the cake of Saint Basil and to try to find the coin inside, as is the tradition.
The special guest was Archbishop Anastasios, who discussed Saint Basil with the young people, who is an important personality of Christianity. "The Church offers us the example of the saints, who are important personalities that lived in this life. Saint Basil was someone who was seeking for the absolute, for the truth, he put in use everything possible. He walked towards knowledge with great enthusiasm, and therefore you should take an example from his life," the Archbishop said. He reminded the youth that religion is an important means of civilization. Moreover, that it is a very great deficiency in the Albanian education system that young people continue not to be educated in religious subjects. Use of the words, love and hope, if they are not related to faith are without value.
After the discussion, Archbishop Anastasios shared the cake with each of the young people. A few days earlier a similar activity also took place in the students' centre of our Church at Student City in Tirana.
I. Koti
Translator: Ana Meni
Editor: Anastasia Pamela Barksdale, M.Div.