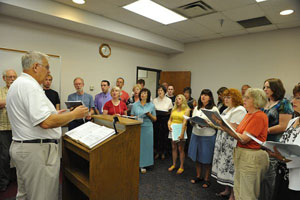 6/7/2010
BEREA, OH [OCA] — Over 160 individuals from as far as Massachusetts and California gathered on the campus of Baldwin-Wallace College here from Sunday evening, June 27, 2010 through Wednesday afternoon, June 30 for the Orthodox Church in America's Parish Ministries Conference and Young Adult Rally.
The conference and rally — the first of its kind to be hosted by the OCA in several years and the largest to date — was sponsored by the OCA's Departments of Christian Education, Liturgical Music and Translations, and Youth, Young Adult and Campus Ministry in cooperation with the Diocese of the Midwest's Parish Health Ministry.
The conference theme — "Equipping the Saints," based on Ephesians 4:11-16 — was explored through two dozen intensive workshops in three broad tracks — Living an Orthodox Life, Building Vibrant Parishes, and Liturgical Music. A fourth track was geared to the dozens of college students and young adults who were present.

Click here for a Detailed Report and Snaps