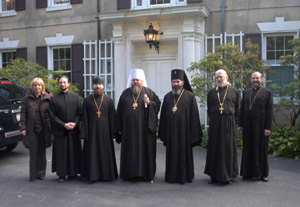 Orthodox Church in America
11/11/2010
YOSSET, NY [OCA] — His Eminence, Archbishop Justinian of Naro-Fominsk, Administrator of the Patriarchal Parishes in the USA, visited His Beatitude, Metropolitan Jonah, at the Chancery of the Orthodox Church in America here on Wednesday, November 10, 2010.
Archbishop Justinian briefed Metropolitan Jonah on his recent visit to Constantinople and current events in the Russian Orthodox Church. The hierarchs discussed the situation of California's Fort Ross — the early 19th century Russian outpost north of San Francisco at which an Orthodox chapel stands. The Archbishop and those accompanying him also had the opportunity to research historical documents in the OCA Archives.
Archbishop Justinian offered belated birthday congratulations to Metropolitan Jonah and presented him with a liturgical staff.
Accompanying Archbishop Justinian, whose visit coincided with filming undertaken by the Russian Orthodox TV program "Orthodox Encyclopedia," were Igumen Joseph [Krioukov], outgoing Secretary of the Patriarchal Parishes, and Archpriest Evgeny Goncharenko, the Archbishop's personal secretary.