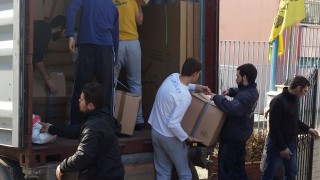 30/1/15
Really, what does it mean to be a "Christian"? What does the property of Christian that each of us acquire from the moment of our baptism mean? Or even what does the confession "I am a Christian" cost?
A Christian is he who believes in the Savior Christ, in Him who gave us the redemption from the bonds of death and the opportunity to become a heir of eternal life.
A Christian is he who follows the example of Jesus' holy life.
A Christian is he who wants, expects and intends to follow in the footsteps of the Apostles to the ends of Earth in any manner and at any cost.
Saint John Chrystostom's words are expressive:
There's nothing more miserable than a Christian who doesn't care to save others. Everyone can benefit his neighbor, if he wants to fulfill his duties. Don't tell me it is impossible to motivate others. For, if you are a Christian, it is impossible not to happen. This is in the nature of being Christian. It is easier for the sun not to heat than to the Christian not to illuminate. A Christian's light cannot go unnoticed."
The Christian feels that just like Paul "death works in us, but life in you" (2 Cor. 4:12), because he loves both the brothers and the infidels. It is he who, embracing the truth that "we have no benefit from being called Christians, if our works are not in accordance with our name" (John Chrysostom), offers himself as a sacrifice ministering to the people, while in them he serves God Himself. "A Christian", according to the holy father, "endures sorrows, but doesn't want others to suffer."
Our Orthodox Christian Fraternity, following Christ's words on sacrificial love for every human being – regardless of gender, race and belief –, shipped on January 11, 2015, two more containers of humanitarian aid to the long-suffering people of Sierra Leone and Madagascar. They contained long-lasting food, medical supplies, church items, clothes, toys and most significantly warm wishes and prayers. This shipment aims to physically relieve our afflicted brothers in these tormented countries, along with the spiritual relief that the Orthodox missionaries offer, lovingly engrafting in them the unadulterated truth of the gospel.
Finally, we would like once more to express our thankfulness to our brothers from the USA and from Florina for the financial support; their hearts are burning for the missionary and charitable work among the nations. May God richly repay them with His grace and blessing.