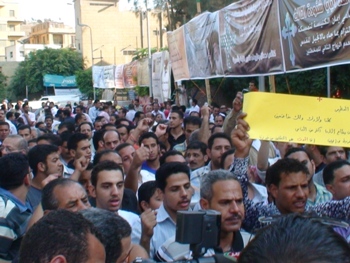 By:
Mary Abdelmassih
11/6/2010
Cairo (AINA) — Thousands of Christian Copts from all over Egypt rallied on Wednesday within the grounds of St. Mark Cathedral in Cairo during Pope Shenouda's weekly sermon, to protest a recent court ruling ordering the Church to issue re-marriage permits for divorcees, a ruling deemed inconsistent with the doctrine of the Coptic Orthodox Church (AINA 5-30-2010). The Coptic Church does not allow re-marriage except in very limited circumstances of adultery (to the non-guilty partner only) and conversion of one partner to another faith.Approximately 10,000 demonstrators chanted their support for Pope Shenouda and the Church's stance on rejecting the decision of the Supreme Administrative Court, which the Copts view as unprecedented interference in church affairs and contrary to religious beliefs. They also chanted that all Copts in Egypt and abroad are behind the decision of His Holiness, and "our personal affairs should only be regulated only according to the teachings of the Bible, and it is not for the judiciary to interfere in our religious affairs."
The demonstrators carried banners showing "O faithful leader, we are with you" and "No provisions and no laws will make us violate the teachings of the Bible."
The Cathedral was overcrowded with thousands of visitors, coming to show support for Pope Shenouda, who was met with a standing ovation and cheers of support for nearly 10 minutes, with chants such as "We love you Pope Shenouda" and "Pope Shenouda, Protector of our Faith."
Among the visitors were clergy from all Christian denominations, Coptic human rights organizations and renowned Muslim journalists and Coptic personalities. The Pope's sermon spoke of Human Rights, and a person's rights to freedom of worship, among others.
After the Pope's sermon ended, the protesters continued with their chants joined by the clergy "we will not violate the teachings of the Bible."
State Security forces surrounded the Cathedral, for fear that the demonstrators might go out to the streets.
During a press conference held on June 8, after an emergency meeting of the Holy Synod, Pope Shenouda asked the court to reconsider its decision, saying "the ruling must be reconsidered, otherwise this will mean that the Copts are suffering and that they are religiously oppressed" (AINA 6-9-2010).
The head of the Egyptian Church also said "The Coptic Church respects the law, but does not accept rulings which are against the Bible and against its religious freedom, which is guaranteed by the Constitution." He went on to say "Marriage is a sacred bond for us, not just a civil matter," adding that the Church "can never implement the court's decision which is not acceptable to our conscience."
Renowned Coptic activist Wagih Yacoub, who was present in the Cathedral rally, said that the the government failed to bring the Church and the Copts "to their knees." He said the State has implicated itself by issuing such a ruling again, since a similar ruling was passed two years ago, and the judge knew in advance that the church would never agree to violate the laws of the Gospel. "It was rejected by the Pope before, so what is the wisdom of passing such a ruling again?"
He believes that in the absence of a rapid intervention and the abolition of this ruling, this might lead to a clash between Copts and the State, with grave consequences, as the Copts will surely reject the application of this provision which is contrary to the Gospel, and therefore, the only solution is its abolition.
Yacoub said that the Court ruling is extremely provocative and means that the government has "declared publicly" its persecution of the Copts. "By forcing followers of a faith to violate the teachings of their Scripture and what they believe in, if this is not persecution," he asked, "then what is?"