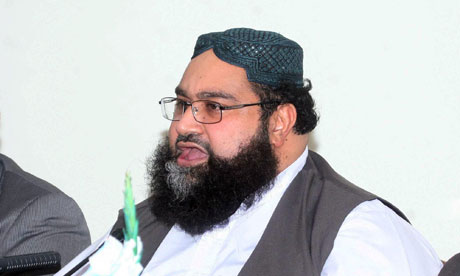 Jon Boone in Islamabad
5/9/2012
Chairman of All Pakistan Ulema Council vows to guarantee safety of girl accused of blasphemy if she is released from prison.

The Christian girl who was allegedly framed for blasphemy by her local mullah has been hailed as a "daughter of the nation" by one of Pakistan's most senior Islamic clerics, who also vowed to guarantee her safety if she is eventually released from prison.
The heavyweight support for Rimsha Masih from the chairman of the All Pakistan Ulema Council, a grouping of Islamic clerics, is being seen as a remarkable turn of events in a country where individuals accused of insulting Islam are almost never helped by powerful public figures.
In a fiery press conference at a central Islamabad hotel, Hafiz Mohammad Tahir Mehmood Ashrafi, flanked by other senior clerics, demanded all the organs of the Pakistani state come together to investigate the circumstances surrounding the arrest last month of a girl who it is claimed has Down's syndrome.
He also lambasted Hafiz Mohammed Khalid Chishti, the imam from the Mehrabadi slum neighbourhood on the edge of Islamabad, who was accused over the weekend of tampering with evidence in order to ensure the girl's conviction.
"Our heads are bowed with shame for what Chishti did," Ashrafi said.
He later said Chishti was merely the front man for other individuals "behind the scene" who wanted to stoke local antagonism against the Christian minority in the area in order to force them to flee.
"I have known for the last three months that some people in this area wanted the Christian community to leave so they could build a madrasa there," he said.
Ashrafi said he would divulge more information about the people behind the alleged effort to construct an Islamic seminary on the properties vacated by the Christians at a later date.
The cleric, who has in the past been associated with the Defence of Pakistan Council, which includes members of banned militant groups, was speaking hours after a judge's decision to further delay a bail hearing for Rimsha until later in the week.
Lawyers acting for Malik Hammad, a man from Rimsha's neighbourhood who claims to have caught her carrying away the charred remains of a book that included verses from the Qur'an, said they could not conduct a trial because the Punjab Bar Association was holding a one-day strike.
However, the case against Chishti continued to grow after two more witnesses recorded statements implicating the mullah in a plot to strengthen the case against Rimsha.
The imam was accused late last week by his own deputy, Hafiz Mohammad Zubair, who told police that after Chishti was presented with the burnt refuse spotted by Malik he added two pages from the Qur'an.
"I asked him what he was doing and he said this is the evidence against them and this is how we can get them out from this area," Zubair told a Pakistani television station.
It is the first time in a blasphemy case that someone has ever been arrested for fabricating evidence – although it remains unclear why it took more than two weeks for Zubair to come forward with the incriminating statement.
Gabriel Francis, a lawyer at Pakistan's supreme court, said the atmosphere of fear surrounding the blasphemy law probably deterred him.
"It is very hard to come forward when in previous cases a governor and a minister were killed for speaking out," he said, referring to Shahbaz Bhatti, a former minorities minister, and Salman Taseer, the former governor of the Punjab. Both men were assassinated last year after they infuriated extremists by publicly criticising the blasphemy laws.
On Sunday, Ashrafi said he had been moved to speak out after reading reports that Rimsha had Down's syndrome, a condition that also affects Ashrafi's 15-year-old son. He said the Ulema Council would guarantee Rimsha's security from vigilantes or extremists if she was released.
"It would be against the honour of the country to send someone out of Pakistan due to non-provision of security at government level," a joint statement by the Ulema Council and the Pakistan Interfaith League said.
However, Ashrafi said there was no need to change or repeal the law – despite campaign groups claiming it is wide open to abuse and allows people to be sentenced to life imprisonment on the basis of threadbare evidence that is often never challenged in court.
"There is no problem with the law – only the implementation of the law is the problem," he said.