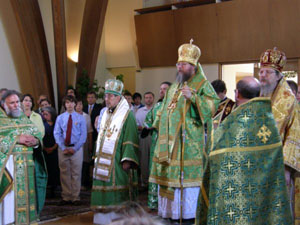 Orthodox Church in America
BOSTON, MA [OCA] — On the weekend of the Great Feast of Pentecost — May 22-23, 2010 — the faithful of Holy Trinity Cathedral here celebrated their patronal feast and centennial year.
His Beatitude, Metropolitan Jonah, concelebrated the Pentecost Divine Liturgy and Kneeling Vespers with His Grace, Bishop Nikon of Boston and New England and the Albanian Archdiocese and His Grace, Bishop Melchisedek of Pittsburgh and Western Pennsylvania. Also serving were Archpriest Robert Arida, cathedral Dean; Archpriest Alexander Garklavs, OCA Chancellor; Archpriest John Kreta, Chancellor of the Diocese of New England; Archpriest Vasily Lickwar; Priests Robert Dick and John Teague; Protodeacon Joseph Matusiak; and Deacons Theodore Feldman and Christopher Westrate.
On the eve of Pentecost, Bishop Melchisedek presided at the celebration of the festal Vigil, after which Bishop Nikon presented certificates of recognition and appreciation to Rosa Romanowski, Mary Hetman, Alice Carter, Nicholas Carter, Paul Andruchow, Stephanie Stroyen, Wanda Maksymowicz, Subdeacon Peter Robert Kotiuga, and Nevine Nassif for their many years of service to the cathedral community.
At the reception following the Vigil, Bishop Melchisedek shared memories of his time as a parishioner of the cathedral.
At the Sunday afternoon centennial banquet, remarks were offered by Bishop Nikon and Father Robert, while reflections on the cathedral's life were offered by Walter Obleschuk, cathedral choir director, and parishioners Zhanna Stalbo, Katia Arida, and Lillian Lelless.
The centennial program book contained the following message from Father Robert.
"'Today the grace of the Holy Spirit has gathered us together.' These words embrace the history and legacy of what we have been celebrating during the course of the past year. Our centennial is a unifying event of the Holy Spirit who draws together our past, present and future.
"Looking towards the past, we remember those humble and courageous men and women who, through the Holy Spirit, enabled the parish to face and resolve its own internal struggles while navigating through the uncharted waters of American life and culture. Assessing the present, the Spirit compels us to prepare for the future in order to bring the uncreated light of Christ to new generations.
"In and through the Holy Spirit the Cathedral extends the ministry of Christ. Like our venerable predecessors, we are called to discern the times as we acknowledge, with humility and courage, that we and our successors will face challenges and opportunities never imagined in the past. Guided by the Spirit, nurtured by the Word and embraced by the Father we will pass on our great legacy to others who will continue to draw the world into the net of salvation."