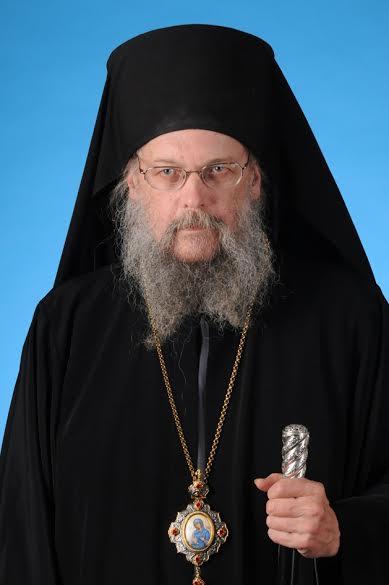 BROOKLINE, MA [OCAMPR] – April 2016
The Orthodox Christian Association of Medicine, Psychology and Religion[OCAMPR] recently announced that His Grace, Bishop Alexander of Dallas, the South and the Bulgarian Diocese will deliver the opening keynote address at it's annual conference at Holy Cross Greek Orthodox School of Theology here November 3-5, 2016.
Bishop Alexander's address, which is related to the conference theme, "On Pain and Suffering," will be given on November 3 at 7:00 p.m.
Bishop Alexander received his Master of Divinity degree from Saint Vladimir's Seminary, Yonkers, NY in 1973.  He pursued doctoral studies at Oxford University in England under His Eminence, Metropolitan Kallistos [Ware], and was awarded his D. Phil. in 1980.  He was ordained to the diaconate in 1982, to the priesthood in 1984, and was tonsured to monastic orders in 1986.  He was appointed to the faculty of the Theology Department at Marquette University, Milwaukee, WI, where he taught from 1989 until 2012, achieving the rank of full Professor.  While at Marquette, he was attached to Saints Cyril and Methodius Church, where he served for 22 years.  Bishop Alexander is a noted scholar.  He has written numerous books and articles and contributed to the establishment of an Orthodox scholarly presence in Berkeley, CA, now the Patriarch Athenagoras Orthodox Institute.  He was consecrated to the episcopacy on May 5,  2012 and elected to fill the vacant See of Dallas and the South on March 29, 2016.
In addition to the keynote address, the conference will offer three plenary speakers, representing the disciplines of medicine, psychology and theology, who also will share perspectives on the theme.  These speakers will be announced soon.
OCAMPR also will offer numerous workshops and paper presentations related to this year's theme as well as themes exploring Orthodox care across disciplines.
OCAMPR is committed to supporting the work of Orthodox care professionals and welcomes submissions of workshop proposals and paper abstracts to ocamprinfo@gmail.com.  Papers are 20 minutes, with five to ten additional minutes allotted for questions.  Workshops are one hour and 15 minutes and may be presented by one person or several.  Workshops enable the presenters to focus on a topic in more depth, and also to allow more time for interaction and discussion.  Paper abstracts are due on August 1, but workshop proposals are encouraged as soon as possible.  Additional information on submitting proposals for papers and workshops were released by OCAMPR at the end of March.
For details on conference registration and OCAMPR membership please visit its web site at www.ocampr.org.