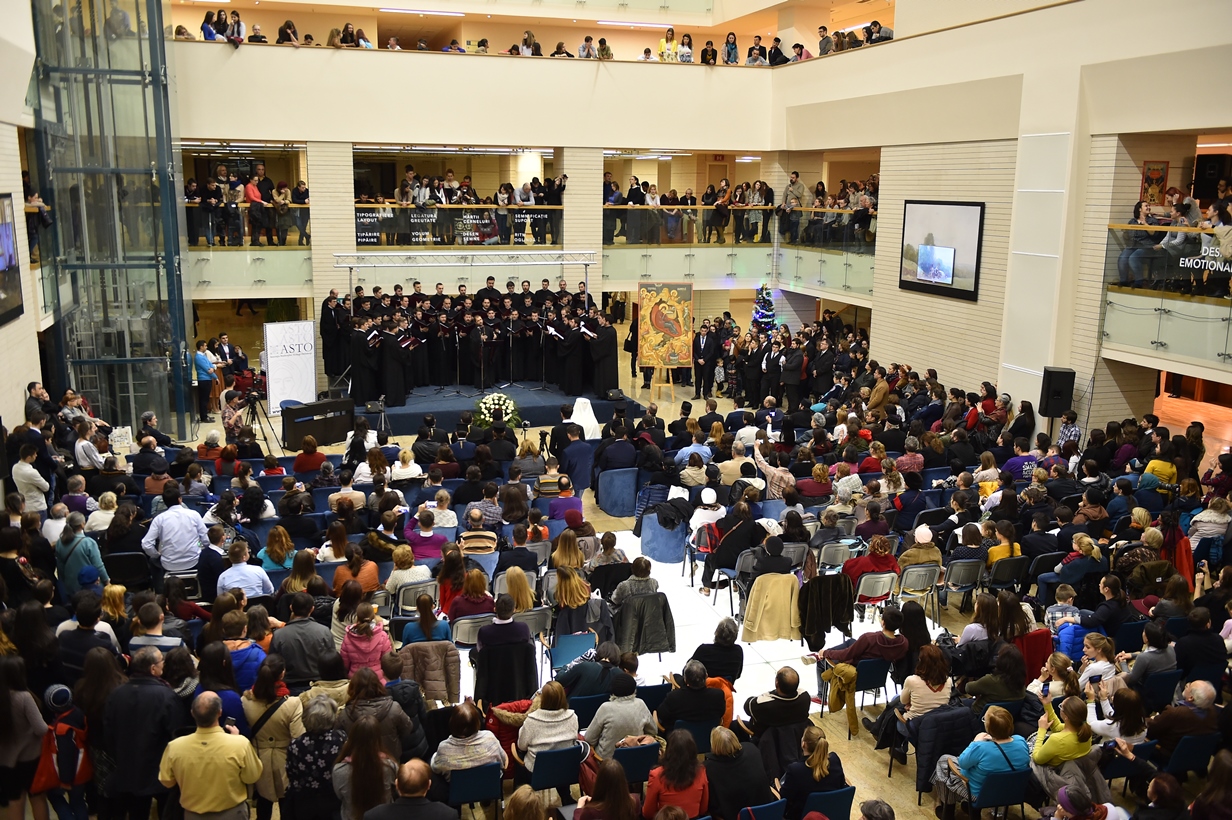 December 2015
With the blessing of His Beatitude Daniel, Patriarch of Romania, the 5th edition of the Benefit Concert entitled "We sing carols by tradition" took place on Monday evening, 14 December 2015, at the National Library of Romania.
The charity event, organized by the Orthodox Theological Students Association (OTSA), aimed at providing support for the activities carried out by St Nektarios Palliative Centre and The Joy of Helping Foundation, in order to purchase medical and care products with the funds raised during the event.
Together with the numerous young people were also present His Beatitude Romanian Patriarch Daniel, His Grace Timotei of Prahova, Assistant Bishop to the Archdiocese of Bucharest, patriarchal advisers and professors of the Faculty of Orthodox Theology in Bucharest.
The carols were interpreted by the following choirs: Nicolae Lungu Choir of the Romanian Patriarchate, conducted by Rev Fr. dr. Stelian Ionașcu; Tronos Byzantine Music Group of the Romanian Patriarchate, conducted by Rev Archdeacon Protopsaltis Mihail Bucă; Cantus Domini Choir, conducted by Rev Archdeacon dr. Ștefan Constantin Răzvan.
Young OTSA volunteers, dressed in Romanian traditional costumes, collected funds during the event.
In the end, His Beatitude Patriarch Daniel congratulated and thanked the participants and the organizers for the blessed evening, during which has been organized a very beautiful association between joy and philanthropy, between traditional and adapted modern carol singing and this gesture of help. This evening we have united joy and generosity. We congratulate all those involved in organizing the event, but also those who have contributed in terms of music. We also thank the National Library for hosting the carol concert and for the beautiful collaboration with the Romanian Patriarchate.
Next, in sign of appreciation and blessing, the Romanian Patriarch offered the commemorative diploma St John Chrysostom to the three choirs, the moderator and the OTSA.