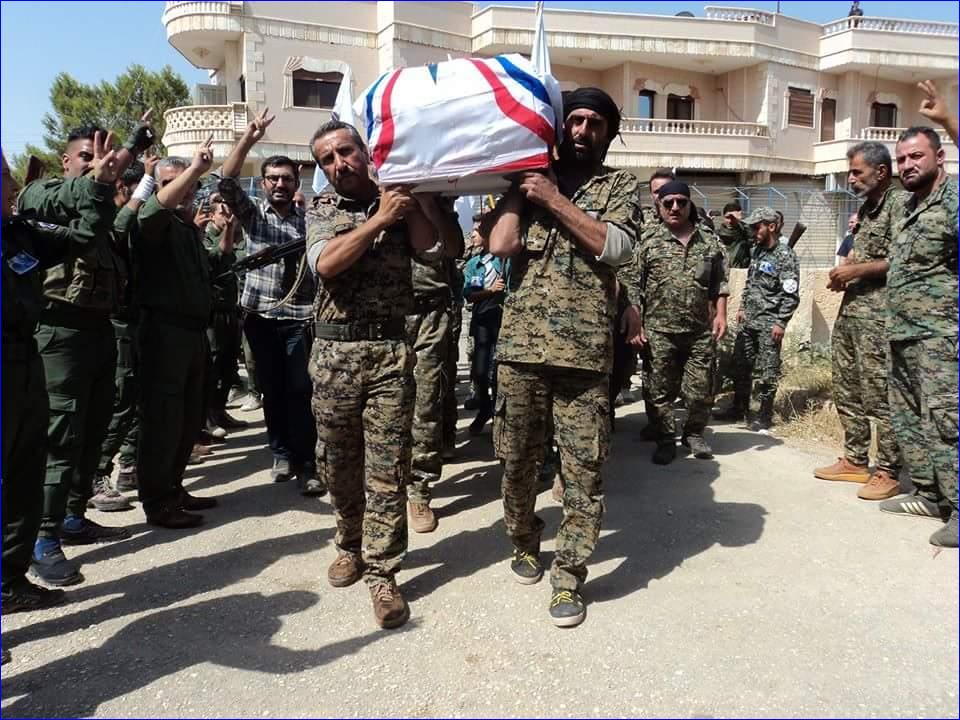 https://philosproject.org – August 2016
Today, yet another young 23-year-old martyr, Basil "Akkad" Talya was buried in Syria as a result of the war against the Islamic State. His recent life, death and family life in many ways mirror the state of the Assyrian nation.
His life turned upside down when ISIS militants invaded his village in Khabour, Syria, wreaking havoc on the villagers and kidnapping more than 200 hostages. They not only destroyed his home, but also kidnapping his beloved sister and other family members.
After continued negotiations with ISIS leadership, most of the 240 Assyrian hostages were released, with only three being executed. Talya's pain did not end, as his sister, Mariam, was not released with the rest of the Assyrians and fears that she was married off to an Islamic State Imam spread, due to her young age and purity. The family's prayers were answered when Mariam was finally released, and Talya was able to hug his sister once more and she could kiss his forehead.
During this turmoil, he took up the call, and like so many young men and women in Syria, he picked up his rifle and joined the Assyrian militias Khabour Guards and Syriac Military Council. More good news came, as the efforts of Assyrian militiamen and Kurdish fighters supported by U.S. air force liberated his home and all of the villages throughout Khabour.
Talya joined the operation against the ISIS stronghold of Shaddadah, where it was believed that his sister and the rest of the hostages were held. After they liberated the town, intelligence came in that the hostages were being transported from Shaddadah to another undisclosed area under ISIS control.
Throughout these troubled times, he also married his love, making the saying "today we cry, tomorrow we smile" a reality. Living through endless times of mourning, the Assyrians have learned to cope with their troubles and enjoy the little moments in life; breathe between the cycles of mourning and take advantage of smiling and laughing whenever they are given the chance.
Married, having his sister returned to him and having his home back (although destroyed), Talya was not content to settle down. He knew that many others were still suffering under the hands of the Islamic State. He, along with other Assyrian volunteers, joined their Kurdish and Arab neighbours and took the fight to ISIS.
On Aug. 27, Talya was killed by a mine planted by ISIS militants in Shaddadah, Syria in Hasakah Governorate.
His recent life unambiguously reflects the state of the Assyrian nation, which has seen her homeland destroyed and ravaged, her sons and daughters killed and taken from her, who — through the endless waves of persecution and suffering — manages to cling on, to have hope and to occasionally give the world something to smile and laugh about.
Ultimately, his death also reflects the state of the nation; in a way, it shows how unpredictable and how dangerous the life of an Assyrian Christian can be. How quickly it can be taken away and how tragic it is; when everything seems to be improving, the worst can strike. Unfortunately, this is something that can be seen throughout modern Assyrian history.
There is yet another lens through which to view this tragic story. After having been married for one short year, Talya and his wife were expecting their first child together. If God wills it, the child will be born safe and healthy — but will never have the chance to see his or her father, never have a chance to hear his voice, feel his touch and embrace in his love.
The story of Talya will continue through his unborn child. This is the story of Sawra (hope in Syriac). It is through the unborn child's life that Talya's story will continue. That baby is a direct product of his or her father's sacrifice. This child will give hope to a people group that has gone through so much and will give the nation a chance to smile tomorrow, even as she cries today.
© 2016 Assyrian International News Agency.