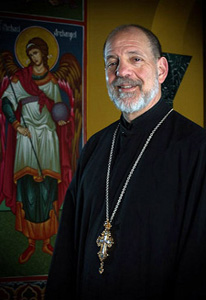 2/11/2010
Archpriest Alexander Atty installed as Dean of St. Tikhon's Seminary
SOUTH CANAAN, PA [OCA] — Archpriest Alexander Atty was formally installed as Dean and Chief Operating Officer of Saint Tikhon's Seminary here on Saturday, October 30, 2010.
His Beatitude, Metropolitan Jonah and His Grace, Bishop Tikhon of Philadelphia and Eastern Pennsylvania, the seminary's Rector, concelebrated the formal installation Service of Thanksgiving at Saint Mary Antiochian Orthodox Church, Wilkes-Barre, PA. Father Alexander is the first priest of the Antiochian Orthodox Christian Archdiocese to hold the position, with the blessing of His Eminence, Metropolitan Philip.
In presenting the Dean's pectoral cross to Father Alexander, Metropolitan Jonah expressed his personal joy, not only because of Father Alexander's 30 years of hard work and successful parish ministry, but because of the vision of a united Orthodox Church in North America he possesses.
Prior to his appointment as Dean, Father Alexander served as pastor of one of the nation's largest pan-Orthodox parishes, Saint Michael the Archangel Antiochian Orthodox Church, Louisville, KY. He holds a Bachelor of Science in Engineering from the University of Philadelphia, a Master of Divinity from Saint Vladimir's Seminary, and a Doctorate in Ministry from Pittsburgh Theological Seminary.
At the banquet that followed, the hierarchs offered greetings, as did members of the Saint Tikhon's Board of Trustees. Offering greetings on behalf of the faculty and student body of Saint Vladimir's Seminary, Crestwood, NY, was Archpriest John Behr, Dean.
Father Alexander, who officially assumed duties on July 1, 2010, is joined at the seminary by his wife, Khouria Olga, and their two children, Katherine and Alexander.
As reported on the OCA web site on March 25, 2010, STS Board of Trustees gave its approval to the recommendation of a search committee to engage Father Alexander on March 12, 2010. The Holy Synod of Bishops gave its blessing at its Spring Session March 16-18, 2010, along with a decision to permit Father Alexander to remain attached to the Antiochian Archdiocese while serving as the Dean of the Seminary, an institution of the Orthodox Church in America.
Additional information may be found at www.stots.edu.