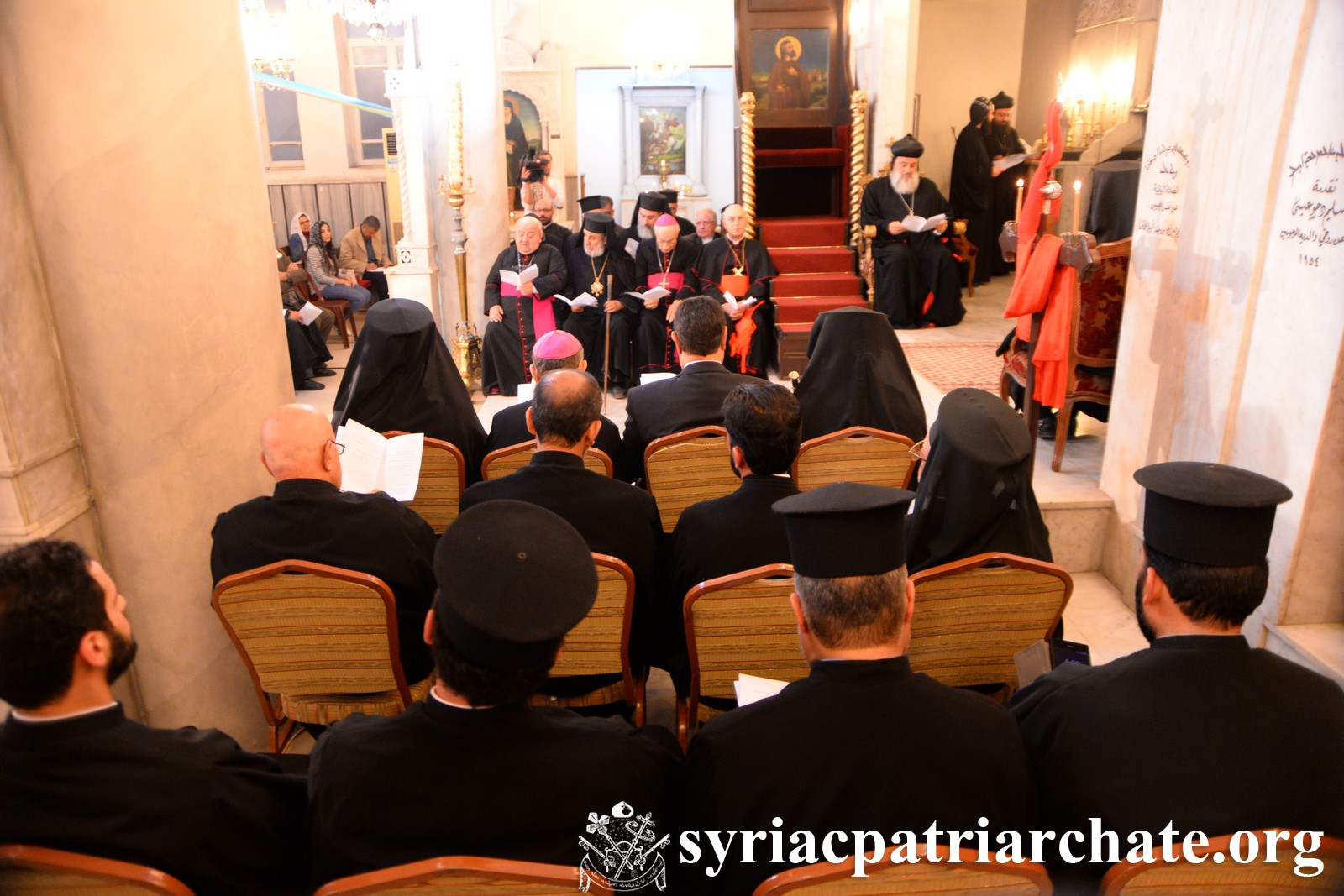 Syriac Orthodox Patriarchate – 25/4/17
His Holiness Patriarch Mor Ignatius Aphrem II called for a special prayer for the return of the abducted Archbishops of Aleppo, Boulos Yaziji and Mor Gregorius Youhanna Ibrahim, on the occasion of the 4th year after their abduction.
His Beatitude Greek Melkite Catholic Patriarch Gregorius III Lahham attended the prayer and His Beatitude Greek Orthodox Patriarch John X was represented by His Eminence Bishop Aphram Maalouli, General Patriarchal Auxiliary Bishop. His Eminence Mario Cardinal Zenari, and their Excellencies Bishops Armash Nalbandian, Moussa Khoury and Luka Khoury, Joseph Arnaouti, Elias Tabeh, Samir Nassar, and Rev. Boutros Zaour also participated in the prayer.
The Patriarchal Choirs chanted hymns related to the Resurrection of the Lord.
His Holiness Patriarch Aphrem II said that we are saddened by the absence of the two abducted Archbishops of Aleppo Mor Gregorius Youhanna Ibrahim and Boulos Yaziji. The abduction of the two Archbishops is a message that aims at striking the shepherd to disperse the herd. He renewed the call to the international authorities and men of good will to help in the case of the two abducted Archbishops. He held that, as Christians, we always have hope that the Lord will help us in our fight against terrorism and destruction in the country that all its citizens helped build and develop.
His Excellency Bishop Aphram Maalouli read the Common Paschal letter issued by the two Patriarchs on April 14, 2017 in which they pray for the return of the two Archbishops of Aleppo.
His Beatitude Patriarch Gregorius III Lahham spoke about the hope that we all have because we are the children of the Resurrection.