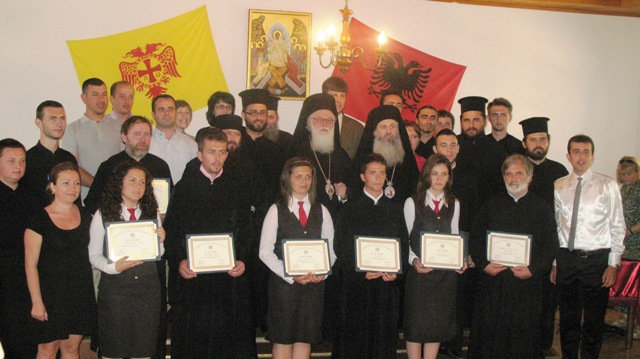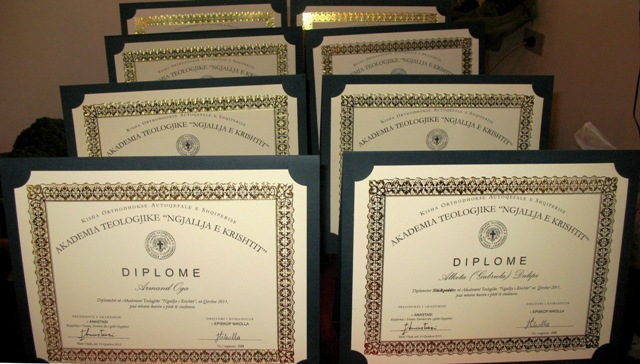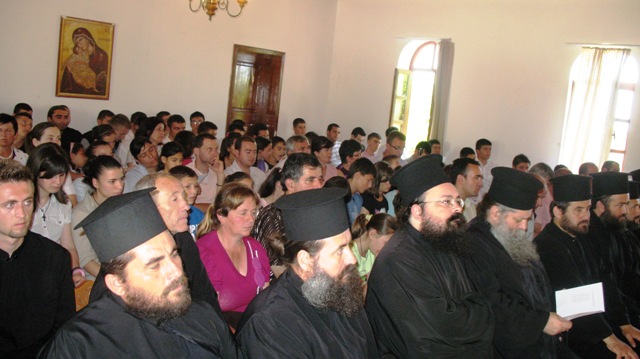 Isidor Koti
Translated by Kristiana Panariti
Albanian Orthodox Church
On June 13th, the feast day of the Holy Spirit, the Resurrection of Christ Theological Academy in the village of St. Vlash, Durres, held a graduation ceremony for its 4th year students. His Beatitude, Archbishop Anastasios, participated in the celebration as well as members of the Holy Synod, including Metropolitan Ignati of Berat, Metropolitan John of Korca, Bishop Nikola vice dean of the academy, as well as clergy from all over Albania. Also in attendance were students, families, professors and other guests.
The opening speech was given by Bishop Nikola, who emphasized the importance of sacrifice. He said, "Sacrifice is necessary when we are laboring in God's vineyard. In the Church, we do not view this as work, but rather service." After that, the academy choir sang a number of pieces. Then, a student gave a speech on the importance of having the Holy Spirit in one's life. After, the academy's top student reflected on the blessings she had received during her four years at the school and her readiness to contribute to God's vineyard.
Archbishop Anastasios gave an inspirational message to the graduating students and all present. "I want to thank God because the Holy Spirit, even during very difficult times, has continued to lead our church on blessed roads, with the sacrifice of many people, known and unknown. There were many people outside the faith, but the Holy Spirit has brought and directed them to the church. There are thousands of young people that want to know the truth; you students have to become carriers of the Holy Spirit to continue the mission. The needs in Albania are enormous. The Albanian church is not small. We are thousands, and we should be burning candles, not extinguished ones. Try to be united; only in that way is the Holy Spirit more within reach and more noticeable in our lives. We should not keep the blessings of God only for ourselves but to share with others and to give them more love."
Finally, the diplomas were distributed to the students and a luncheon was served.
Comment using Facebook