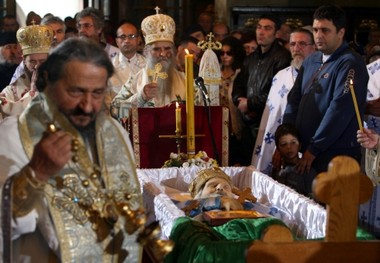 Belgrade, Nov 16, 2009 – A large number of citizens have been paying their respects to the late Serbian Patriarch Pavle since yesterday evening at the Cathedral Church of Archangel Michael in Belgrade, where his body is displayed in an open coffin.
At the entrance to the church, where church dignitaries are constantly holding prayers over the late Patriarch's body, two books of mourning have been opened for citizens to sign.
The Serbian government yesterday announced three days of mourning in the memory of Patriarch Pavle, from November 16 until 18.
In honour of the late Patriarch national flags fly at half-mast, a minute's silence was held and TV and radio stations broadcast appropriate programmes to mark the three days of mourning.
Patriarch Pavle will be buried, according to his own wish, in the Rakovica monastery on November 19. The details of the interment will be announced on the website of the Serbian Orthodox Church.
Serbian MPs paid their respects to the deceased Serbian Patriarch by observing a minute's silence at the beginning of today's session. On the day of the funeral parliament will not convene.